September 13th, 2017
Calling all hunting filmmakers to the Monocular Video Awards 2017
If you've made a hunting film over the last year or have an awesome clip from a hunting trip, then this is your chance to win amazing hunting prizes from Garmin, Blaser and Sitka.
It doesn't matter if it's the first time you picked up a camera, or even your first hunt – we want to celebrate all aspects of the hunting sphere – and have five categories for both amateur and professional entrants.
All finalists will have the chance to attend the Monocular Video Awards Ceremony and meet other passionate hunters. This is your chance to show the world what hunting means to you, wherever or whatever you hunt.
The award categories are as follows:
· Best Hunting Clip of the Year
· Best Hunting Video of the Year
· Professional Hunting Video of the Year
· Gundog Video of the Year
· Community Honour Award
The shortlisted videos will then be submitted to a public vote with the winners announced at at the Monocular Video Awards Ceremony in Copenhagen, Denmark on December 14th 2017.
With brand partners including Garmin, Blaser and Sitka the Monocular Video Awards 2017 looks set to be the world's most exposed hunting video awards with a projected reach of +10 million hunters globally.
the Monocular Video Awards 2017 have been created to celebrate the international hunting community and the videos that inspire us to get outside, become better and more responsible hunters and secure that hunting culture survives for many generations.
Use the hashtag #TMVA17 to share the awards with your network and upload at themonocular.com/award17
Award Jury
BASC Chairman; Peter Glenser
Hunter and the Monocular Ambassador; Jessica Knecht
Professional Hunting Photographer; Aske Rif Torbensen
Hunter and Conservationist, Ruffed Grouse Society; Meadow Kouffeld
Creative Director, Blaser; Gunther Stoschek
Marketing Director, Garmin; Marcus Bjarneroth
Presenter Field Sport Channel; Charlie Jacoby
Co-Founder, GearTester; Jan Hüffmeier
CEO, the Monocular; Jacob Boll
Award Brand Partners
· Blaser
· Sitka
· Garmin
Prizes
Prizes: The award winner with the most total public votes for his or her video will win a Blaser R8 Professional Success Rifle. The award winner with the second most total public votes for his or her video will win a Garmin VIRB 360 camera. Additionally, all award winners in each category will receive a Sitka Gear Package of their choosing with a value of €1000.
Award Timeline
13th Sept – 31st Oct: Award Launch – open for video submission
1st Nov – 7th Nov: Jury shortlisting
13th Nov – 10th Dec: The global hunting community votes
14th of Dec: Final award show in Copenhagen
For all press enquires
Please contact: lc@themonocular.com
August 17th, 2017
The Perfect Shot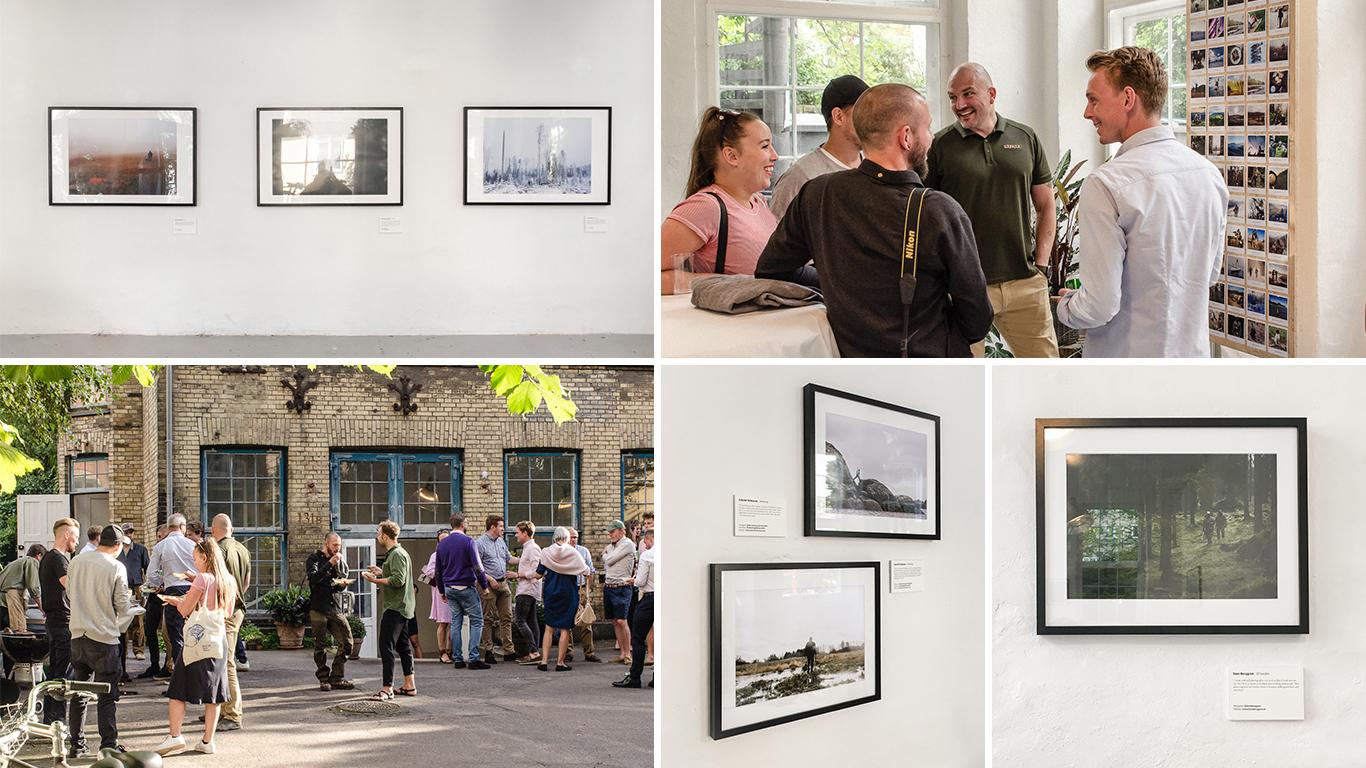 Last week we hosted a photography exhibition in our Copenhagen office to recognise and celebrate our global hunting community.
Hunters came from far and wide to admire the artwork, tuck into roasted red deer and enjoy a welcome appearance from the Danish sun.
So a big thank you to all that came and made our evening so enjoyable, and to those who continue to support us with our mission to become the world's largest hunting community.
June 30th, 2017
the Monocular presents ´The Perfect Shot´
— a celebration of amateur and professional photography from the Monocular's global hunting community.
The exhibition aims to put a spotlight on the relationship between human and environment, the trials and tribulations of hunting and, ultimately, the beauty of Scandinavia's landscape.
Join us at our brand new office in Copenhagen, for a reception where some of the photographers will be present to discuss their work with guests. There will also be a short talk from the Monocular's CEO on his vision to form the world's largest hunting community, networking opportunities and exciting insight into the hunting industry.
Thursday, August 10th, 5-9pm.
Attend event bit.ly/thePerfectShot
May 2nd, 2017
Exciting new partnership between the Monocular and influential hunters
The Monocular, a global hunting community, continues to extend its presence in the hunting sphere by bringing on board five new hunting partners from each of its main European markets.
The new move reflects the increasing reach of the hunting platform as it continues with its mission to help outdoor and hunting brands create and distribute content to become effective digital storytellers.
Each one of the partners is an established and influential hunter in Northern Europe and will give both the Monocular and the brands it works with further reach and engagement.
CEO Jacob Boll said: "We are very happy to welcome the five new Hunting Partners to the Monocular Community and look forward to start the collaboration. Currently the Monocular helps brands become effective digital storytellers, and drives brand engagement via our hunting influencer network and personalised content marketing strategies. So not only will the new partnerships further increase the quality and quantity of our content and reach, but will also propel our community towards our target of being the world's number one hunting community."
British hunter, Fredrick Weller, said: "The Monocular is a great environment for hunters to share stories and help others have the best experiences when getting outdoors. With a new generation of passionate hunters learning that there are many other hunters out there who enjoy both similar and different types of hunting, I am proud to be a partner of The Monocular at an exciting time for our community."
Swedish hunter, Jessica Knecht, added: "I chose to be a part of the Monocular as the professionality of the concept is very appealing to me. It caught my attention! Hunting, fishing and being outdoors are great passions of mine, I therefore enjoy being part of a community where I can share my own experiences and take part in the experiences of others from near and afar – both getting inspired and being an inspiration myself."
The move reflects the current consumer landscape in which consumers are choosing to listen to each other over brands, and marketing induced consumer to consumer word of mouth generates more than 2x the sales of paid advertising. (McKinsey)
The Monocular partners are as follows:
Fredrick Weller, UK
"I try to encapsulate my outdoor life with photos of the beautiful Suffolk scenery, hunting and my Spaniel (when he's still enough). The things I do outdoors are the most common types of shooting around the UK. I think that is what appeals to my followers, they can relate and engage with my pictures as they probably have done the same thing that week."
Marte-Emilie Nordli Rustad, Norway
A Norwegian hunter who is hungry for great adventures in the woods and nature.
Matthew Geisler, Germany
"I went on my first hunt for love and that's why I stayed. The love for the feeling before a hunt, the excitement, nature, being on point every single moment, the game and my dog. I love the experience, not the trophy that I mount on my wall."
Jessica Knecht, Sweden
"Hunting and fishing have always played an important part in human history, this since the beginning of the times. I feel honored being a part of those who carry this legacy on to coming generations, both in the wilderness and in the cyber world through the online hunting space."
Frederik Behrens, Denmark
"I love all things about hunting; the early mornings and the late evenings, the natural wonders that you can't get anywhere else and that can't be bought. In fact, I enjoy every minute that I'm outside and able to feel the wind, rain or sun."
Find out more about the Monocular here: themonocular.com/about
The Monocular ApS

Gl. Kongevej 131b
1850 Frederiksberg C
Copenhagen, Denmark